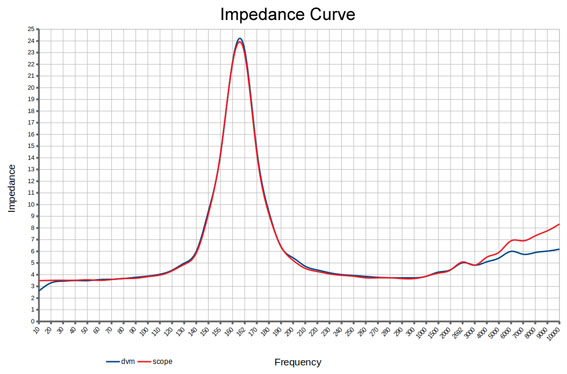 I used a spreadsheet to calculate impedance values and to plot the impedance curve. What we want to know is the minimum impedance value above speaker's fundamental resonance frequency (high peak in the curve).

The answer is about 3,7 ohms at 290 Hz, Z(min).

Now we can calculate the speaker's rated impedance, as Z(min) / 0,8 = ~4.6 ohms. Rated impedance is defined so that the minimum impedance may not be less than 80% of the rated (nominal) impedance. Rated impedance is the value marked on the speaker by manufacturer.

So the minimum actual impedance of a 8 ohm speaker can be 0,8 x 8 = 6,4 ohms.