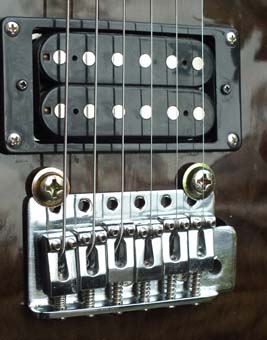 The original posts didn't hold the tremolo properly and they were too thin. I found two machine screws that hold the tremolo in the right place. I got perfect intonation after adjustment. Those screws are not pretty, though.

I took pickups from the Ibanez, they were slightly better (not great). After other necessary adjustments it was time to plug the guitar in. And itīs not bad!

It kind of combines the ergonomics of a strat type body with the easy playability of a short scale neck,

One day I might give the thing a new paint job, and remove those bindings. Yes, they look nice, but I like rounded edges. They make a guitar more comfortable to play.

Oh, and new pickups. And ...